7 Great Christmas Ideas for 2017 (continued)
#6: Heos Speakers!
For multi-room audio, its lonely at the top. There are only a select few brands that stand out above the rest in ease of use and wireless interconnectivity. While it may change in the near future, for now you are essentially looking at Sonos and Heos. In our humble opinion, the new line of Heos multiform speakers is currently holding a slight advantage, though the competition is quite close. The real choice to make though, is which speaker to place for each room you are targeting.
The entire HS2 line can be controlled through your smartphone or tablet, and whether you are looking for different audio streams for each room, or a nice balanced stream to flood the entire house with, the digital interface is easy to control. Here is a rundown of the properties of each, so you can match them to the needs of your target rooms.
Heos 1. The Biggest Little Speaker in Your Home

The Heos 1 looks a lot like a well fashioned computer speaker. Its angular face gives it an aesthetically futuristic appearance with a sort of understated air of sophistication. The sound produced features advanced DSP and custom EQ, providing a natural smooth tone with no hard edges, which is unusual for a speaker of its size.
The design excellence however does not stop at the sound quality, or even at the aesthetics. Its available Go Pack allows for rechargeable battery operation. As you know, here in Huntsville or Guntersville, Alabama we all like to host outdoor parties by the pool in the summer. With the Heos Go Pack, you can carry your Heos 1 speakers out to the patio for your poolside party, and then return them to their permanent place of residence in your office, bedroom, or bathroom. In fact, the designers even took into account the potential issue with humidity that is often overlooked in an indoor-outdoor speaker.
For those who cannot be convinced that wireless audio does not compromise latency (we've seen no evidence that it does in this case), there is a 20th century style ethernet port available for hard-wiring to your network LAN. In fact, if you want to go really old-school, there is a 3.5mm minijack for connection to a computer or other auxiliary audio source.
All in all, this "Little Speaker That Could" is a fantastic option for any enclosed space or office application.
Heos 3. The Speaker You Want To Feature
Designed for vertical or horizontal orientation, the Heos 3 takes its aesthetics really seriously. Rather than hiding it behind flowers or other furniture, you might display it on its own pedestal-table to be appreciated by guests. Like the entire HS2 line, the interface is remarkably easy to manage from your tablet or smart phone. It links seamlessly with the rest of the HS2 speakers in the home through the free IOS or Android app.
It creates an ambient sound that is far bigger than its footprint. To accomplish this, the Heos 3 combines a dual channel class D amplifier with a pair of full range drivers. If course, to feed the sound to the speaker, you can use WiFi, Bluetooth, USB, auxiliary input, or ethernet connections. This small area speaker is perfect for mid-sized rooms and high resolution sound as well as any speaker in its class.
Heos 5. Where Elegance Meets Performance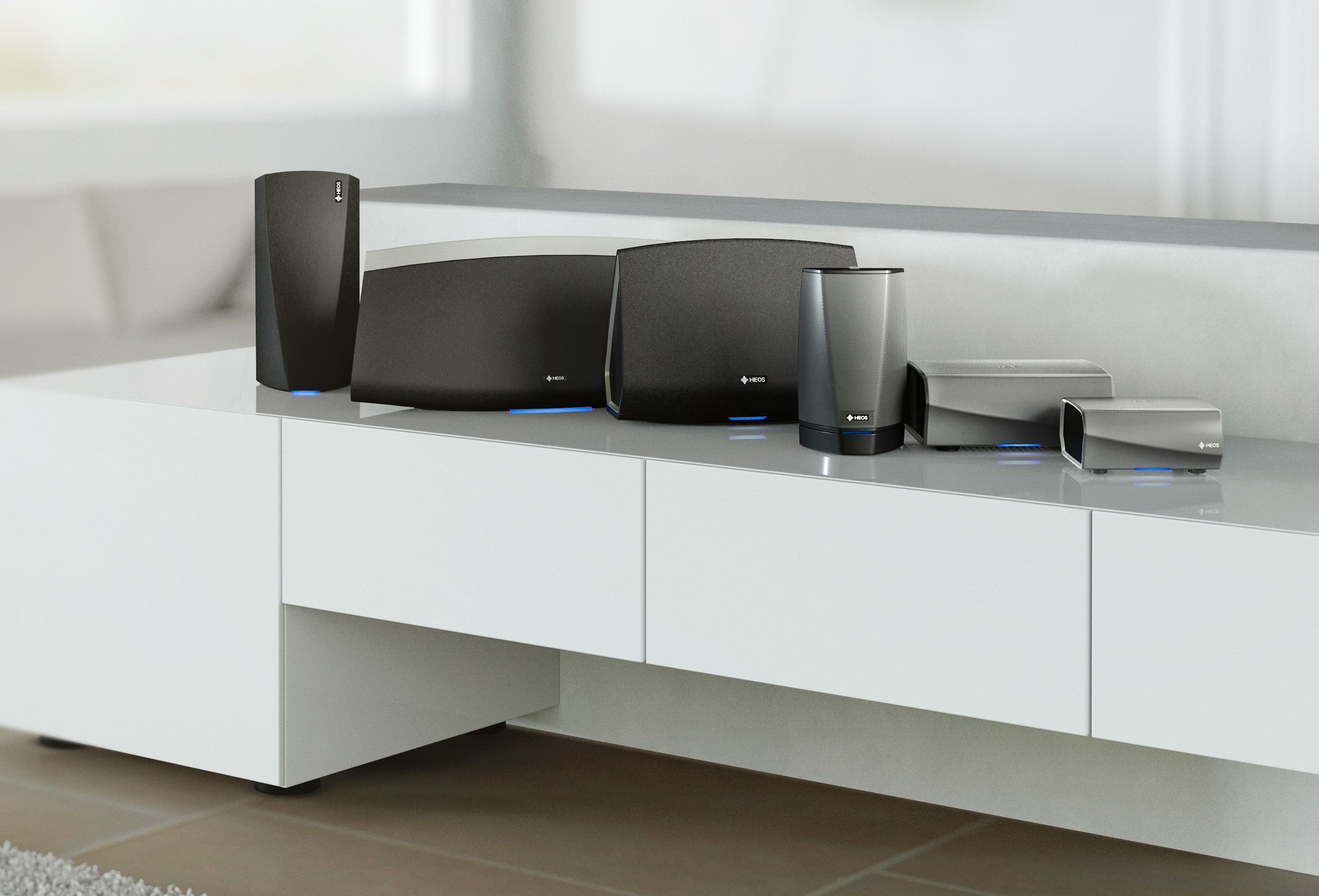 This is really the flagship of the Heos line. Its a mid-sized speaker with an enormous high quality sound. Its iconic wedge shape gives it quite the "conversation piece" status, and its soft blue power light combines with its futuristic design to conjure memories of what 80s movies thought the 21st century would look like.

We won't bore you going over all the same inputs and control systems that we have mentioned before with the other Heos products, but it goes without saying, they are all there with the Heos 5 as well. The main advantage of this more powerful system is the 5 driver system. It uses 2 precision tweeters and 2 mid-woofers along with a passive radiator.

The ideal target for this speaker system includes medium to large dining rooms or bedrooms, and large offices and living rooms. This speaker is so good, even on the lower register, I would be tempted to use it for rooms too small.

Heos 7. Have Speaker - Will Party
There are, of course, many rooms that are too big for this speaker. They call those rooms football stadiums. But as long as you aren't trying to replace the sound system on the runways of Huntsville Airport, or in Madison Stadium, This stylish but powerful speaker moves enough air to fill even the largest rooms with high resolution sound. The drive units include 2 tweeters, 2 mid-woofers, and 1 woofer.

Essentially, the Heos 7 is a larger, more powerful Heos 5, and yes one on one it is a better single speaker option for a very large room. However, in our opinion, the superior choice would be to pair 2 Heos 5 speakers together to tackle that same target space. The pair of Heos 5s would only cost a total of $200 more, and would give you so many more options for panning and true stereophonic presentation of your audio. Not to mention, the pair of 5s will produce more total decibels of sound than will the single Heos 7.

In any case, if you are dead set on a single speaker per room, the Heos 7 will certainly get the job done in anything short of a full-size ballroom.

Putting It All Together
So now you have all the speakers placed in all the rooms of your house, and its time to put it all together. For that, the Heos Drive is in a word, freaking amazing. This 4 Zone Whole Home Audio Distribution System has a Class D 8-channel amplifier and features Dolby Digital with stereo downmixing.

Each of the 4 zones in this multi-room amplifier has a pre-amp outputs. The integrated switching system has optical, coax digital, and analog inputs - a total of 8 in all. Any of these input channels can be routed to any zone, and each zone contains a port for connection to an external drive.

This thing is rack-mountable, and it has a super-quiet cooling fan to maintain long term reliability. The Heos Drive can handle any mix of speaker configurations, and of course, can be switched on the fly from one to another. Its rated at 60 watts per channel, and can be bridged for single channel high-power output at 130 watts.

No video selected.