Bring Your Conference Room AV into the 21st Century
Improve Productivity with Modern Collaboration Technology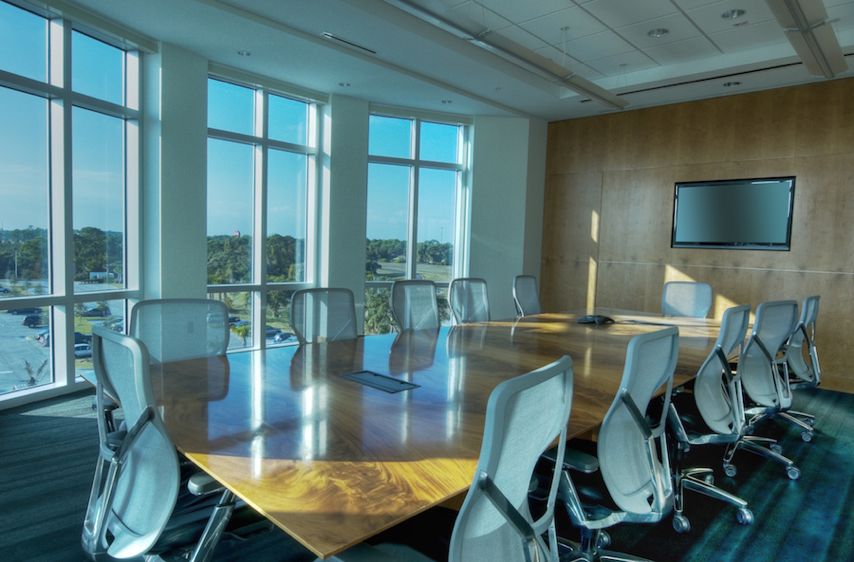 Have you had to sit through the first ten minutes of a presentation where the presenter is unable to connect his laptop to get the presentation on the conference room screen? How about the conference call where everyone is almost shouting into the speakerphone, and the person on the other end sounds like they're underwater? If you hold a lot of meetings with multiple parties, chances are you've had one of these experiences.
It might be surprising, but even with all the new technology available today many businesses rely on antiquated conference room technology. In some cases, they can avail themselves of modern technology like Zoom and GoToMeeting conferencing on laptops and other devices, but when it comes to getting into a meeting room, the only equipment is a flat panel, a connection cable, and a speakerphone. That's not going to cut it in today's fast business world. Want to find out how to modernize your conference room audio video systems to increase your team's productivity in Huntsville? Read on to learn more.
SEE MORE: How Can You Design The Ultimate Video Conferencing System?
Make The Technology Easy To Use
Sometimes conference room technology can be daunting. We've seen complicated instructions that require diving into settings for a laptop or device, dealing separately with audio and video parameters to get something in the screen. The best technology is the one that is simple and intuitive to use without a manual.
A solution like Crestron DigitalMedia puts a variety of conference room controls – including lights – under a simple graphical interface that anyone can comprehend. The interface can be on a dedicated room touchpad or an app on smartphones, and provide an easy way to set up a presentation, audio conference call, or video conference with screen sharing.
Go Wireless
Those old days of having a cable connection for the projector that serves a PC but not a Mac should be a thing of the past. Ditch the cables and go wireless. Today's smartphones, tablets, and newer laptops all have different interfaces, but what they share in common is the ability to connect to Wi-Fi. The latest systems, like Crestron's AirMedia solutions, offer easy ways to connect any wireless device and share its content on the room display as well as to the remote parties.
Make Sure Everyone is Heard
Effective collaboration is all about communication, and bad sound during audio and video conferences waste time and can create misunderstanding, especially when dealing with people who speak different languages. Feedback, volume fluctuation, and poor microphone coverage are often culprits of poor sound quality in conference rooms. Invest in good quality microphones and microphone arrays, which can sit on table tops or mounted in ceilings. Similarly, additional speakers can sit on tables or be installed in walls and ceilings from a streamlined look and complete room coverage. Acoustic treatment can also help in insulating the conference room from outside noise as well as keeping sound from bleeding out to surrounding offices or spaces.
Easier Room Scheduling and Monitoring
If you have multiple conference rooms and meeting spaces in your company, efficient scheduling to avoid conflict as well as having the right room for a meeting is important. Conference room systems can integrate with popular business calendar software like Microsoft Outlook and Google Calendar so teams can reserve the right rooms and check on when the right resource is free. Other excellent management features of modern conference systems – like those from Crestron – include monitoring usage, remote management and maintenance, and automation capability that turns on lights and equipment when meetings are scheduled and automatically turns them off when not in use.

Isn't it time to upgrade your conference room audio-video to support modern business collaboration? Call us at (256) 882-5081, contact us, or just click below to connect immediately to one of our lighting experts. We look forward to working with you.

No video selected.