WHAT CAN WE DO FOR YOU THIS SPRING?
AV Enthusiast can help with your home technology needs
Whether it be consulting on the technology-related aspects involved with the design of your new home, or perhaps that of your new outdoor entertainment area, we look forward to partnering with you in your endeavors to make your dreams come true.
When spring has sprung, it's likely to spark your innate creativity and a hunger for something new. Your home environment is often your first focus for change. Whether it be new construction or remodeling, "ya gotta have something different."
Obviously, if you choose to design and build a new home, it will be a long, drawn-out process that may stretch through many spring seasons. For any extensive project, it's tremendously important to plan wisely in order to stem excessive delays and cost overruns that are a result of poor planning. Living in the era of high technology as we currently do, it's crucial to design your new home around the technology - rather than assuming that it can be successfully added as an afterthought - and with the requirement that it must also somehow blend in perfectly with the architectural style and structural characteristics of the home.
This is especially true if you want to build a Smart Home. We posted a series of blogs in January 2023 titled, "Interested in Building a Smart Home? Here's Some Crucial Advice" that you can access below.
Recently, we learned of several relatively new home technologies at the CEDIA Tech Summit that may be welcome additions to your home technology, the first being AWOL Vision's Vanish Laser TV. This innovative, space-saving home theater projection system is much like a Smart TV in the way that it operates and is currently one-of-a-kind in the industry. It is specifically designed for ease-of-use in smaller spaces (with a minimum screen width being 100"), such as in the living area of an apartment or the living room, den, or man cave in the average home. It uses an ultra-short-throw (UST) triple-laser projector that can be placed very near to the screen, and in this case, both the projector and the motorized ALR (Ambient Light Rejecting) screen appear and disappear into a modern, stylish cabinet at your command.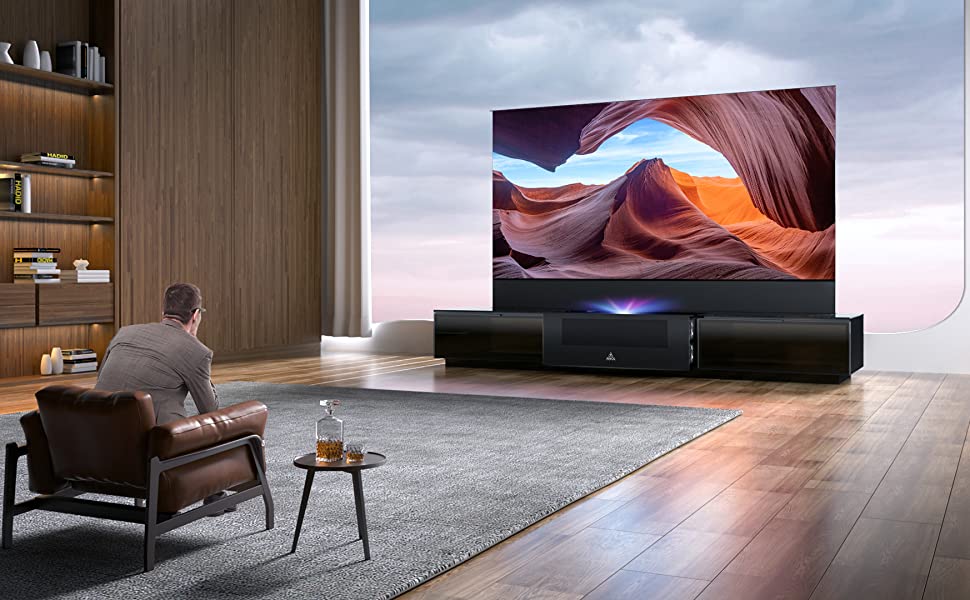 Of course, it could also be used in a large home, possibly to create a children's home theater room or a teen hang-out. Or perhaps you could convert your seldom-used sunroom into an entertainment room with this versatile piece of technology.
For your outdoor entertainment area, the upgrades that you want in your landscaping could include ORIGIN ACOUSTICS Landscape Speakers placed strategically among the Zinnias, Daisies, and Floribunda Roses that surround your new gazebo. Alternatively, if your tastes run nearer to audio perfection, you can opt for an ORIGIN ACOUSTICS High Resolution Audio System. That will provide you with the perfect "chill pill" of relaxing background music as you kick back in the gazebo swing after a stressful day at the office.
If you are prone to throwing outdoor dinner parties, either for entertainment or business purposes, you may want to provide a "WOW" factor for your guests by incorporating several SUNBRITE OUTDOOR TVs into your hardscaped patio entertainment area. For example, you could host an outdoor dinner soiree for patrons of the Huntsville Botanical Garden and run slideshows that highlight not only the colorful botanicals at the garden, but also the many improvements to the facility made possible by the generous donations of the attendees.
After dinner, your guests can retire to the pool area for a relaxing moonlight dip with friends while enjoying a vintage Beach Boys movie, courtesy of your poolside SUNBRITE TV paired with the ORIGIN ACOUSTICS High Resolution Audio System.
Alternatively, some of your guests may enjoy after-dinner drinks and a viewing of Top Gun in the comfort of your customized home theater. Recently, the Integration Team from AV Enthusiast upgraded the theater with a Kaleidescape Movie Server, which differs from streaming services in that movies and shows are directly downloaded to a dedicated hard drive onboard a server in your home, and then played back from one or more players to your TVs. Because the download bitrate is ten times higher than that of streaming services, the service delivers an identical copy of studio master audio, and clear video that is free from the softness, noise, and banding that is typical with streaming services. That makes the quality of the playback even better than that of Blu-Ray. Your guests will definitely be impressed!
AV Enthusiast is your go-to A/V integrator for all of your Audio-Video projects! Give us a call today at 256.882.5081to schedule a consultation or drop by our showroom at 514 Madison Street in Huntsville Monday – Friday from 9 AM to 5 PM or Saturday from 10 AM to 3 PM.

We look forward to meeting you!

No video selected.
Related Articles