Ultimate Home Theater Review
No Holds Barred Home Theater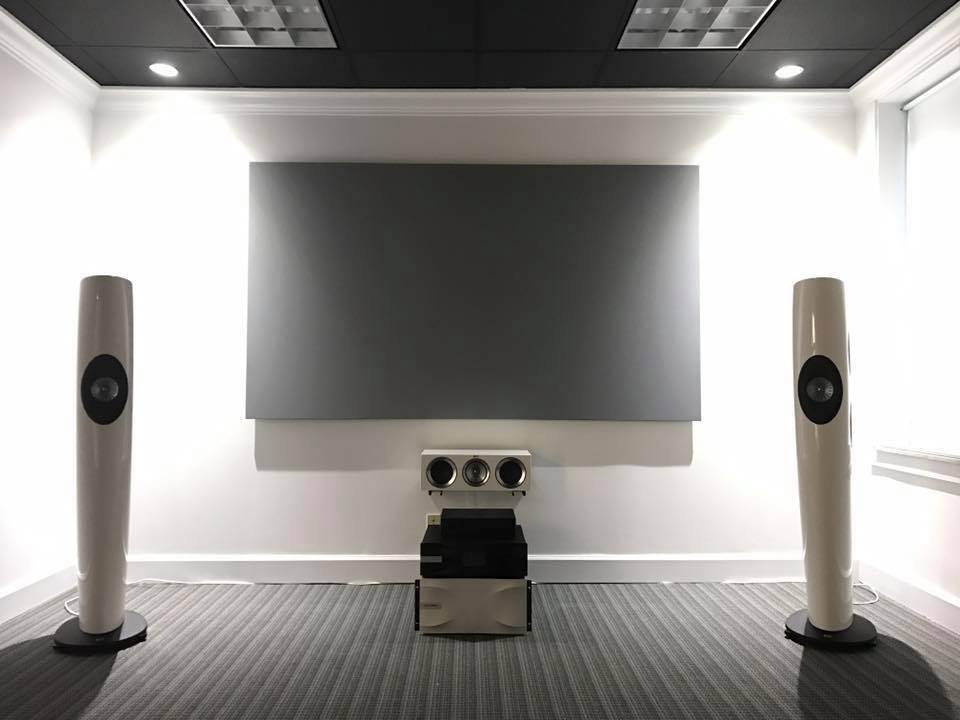 Here at AV Enthusiast we recently celebrated our ribbon cutting of our new office in Downtown Huntsville. As part of the event we were lucky enough to have the support of several of our vendors to help us set up an amazing Home Theater system. With a retail cost of upwards of $70,000 this was an example of what a no holds barred home theater experience can be, and even with our jaded eyes and ears, it was mind-blowing.
Lets start with the source. Providing content was a Kaleidescape Strato movie server. Providing the ultimate in video and audio quality, it fed true 4K Ultra HD Video out to our projector and high quality DTS audio to our processor/amplifiers. With the ability to import your Blu-Ray movies and a huge selection of 4K titles on their movie store, it is the best way to store and watch your favorite films in the best quality possible.
Using the Kaleidescape system was an absolute breeze. The interface was intuitive and extremely responsive. As soon as you pressed the button to move the cursor or select an item the response was instantaneous, unlike all of those old cable box interfaces we are normally used to. The image quality was amazing without any artifacts or audio sync issues that can happen with other media servers. A truly amazing product.


Next we will move to the projector. All of that amazing 4K video was displayed by a Wolf Cinema TXF-900 projector. This is the first in Wolf Cinema's new Theater Extreme series of home projectors, and use the sixth generation of their Direct Drive Image Light Amplifier (D-ILA) to produce amazing images from SD, HD and Ultra HD sources.
The image quality was fantastic. With an extremely high contrast ratio (800,000:1) it created incredibly deep blacks and the detail was impeccable. Whether we were watching a fast paced action scene or a live concert, everything was shown in exquisite detail. The built-in fans were so quiet, we couldn't tell if it was turned on or off without looking at the standby light!


We paired that amazing projector with a 106" Draper Profile fixed screen using their ReAct viewing surface. It has a silver/grey surface that provides impressive contrast especially in multi-purpose spaces where daylight cannot be fully controlled or lights need to stay on.


The screen allowed us a lot more flexibility in using our cinema since we have two windows in the room. This allows to show how these type of screens help you use your home theater for more than just the occasional movie in the dark. It can be the center of your family's home entertainment; for TV, gaming AND movies.


Let's move on to the audio portion of the system. We were lucky enough that Datasat provided both a processor and amplifier for the system demo. While you may have not heard of Datasat, I can almost guarantee you have heard a system powered by them. Datasat has over 80% of the world market in commercial theaters and even has an Oscar for sound technology. The LS10 processor provided the decoding and configuration for the audio system, while the RA7300 amplifier gave us 7 channels of 300watt power to push the speakers.


On to the speakers. For the left and right channels we had the pleasure of using a pair of Kef Blade Two. These speakers not only look amazing but their sound quality is impeccable. For those of us exposed to the AV industry every day, it is easy for us to become jaded. These speakers however, blew even us away. Bass was deep but not muddied, midrange was distinct, and the highs were crystal clear. The imaging was fantastic; with the ability to pick out location of individual instruments in the music demos. The center channel was a Kef R200C and the surrounds and rears were the Key Ci160QR. The sounds was amazing. bullet shots from the gatling gun scene in The Book of Eli felt like they were flying past your ears and the concert music was like sitting front row center.

We also used some 2'x2' Acoustic sound panels in the room to held deaden what was an extremely live room and it made a huge difference in the overall sound of the system.


This system was incredible and it showed how a home cinema can surpass the video and sound quality of a commercial theater. Combine equipment like this with some theater seating and lighting system and then add a control system and you have an experience like no other, all in the comfort of your own home. Just a quick break down of the component prices.


Stratos 4k Movie Server - $4500
Wolf TXF-900 Projector - $9000
Draper Screen - $1800
Datasat LS10 - $12000
Datasat RA7300 - $12000
Kef Blade Two - $25000
Kef R200C - $1000
Kef QCi160QR - $1200
Misc. cabling and mounts - $1500
Total Equipment Cost- $68,000


While a system like this may be beyond most of our wallets, (mine included!) you can recreate the amazing theater experience at a price point that is much more budget friendly. We encourage you to contact us for a free on-site consultation to discuss your wants and needs, no matter how large or small your budget might be. We can guarantee that if you take the same budget you were willing to spend at the local big box store on your new AV system and talk to us, we can design, install and configure a system that will perform significantly better. Contact us here at AV Enthusiast and we can schedule a meeting and/or walkthrough to discuss and design a personalized home theater tailored to your exact needs. You can contact us at 256.882.5081 or This email address is being protected from spambots. You need JavaScript enabled to view it. to schedule an appointment.


We would also like to thank several vendors and representatives that helped us put together this system.
Kef - Honey VanDeKreke and Jim Kershaw from Money Makers.
Wolf, Draper, Datasat, Kaleidescape - Scott Johnson from Precision Sales Group
About the Author