AV 101 - Session 5 - Taking Your Game to the Next Level
Building a Great Sports Cave is No Game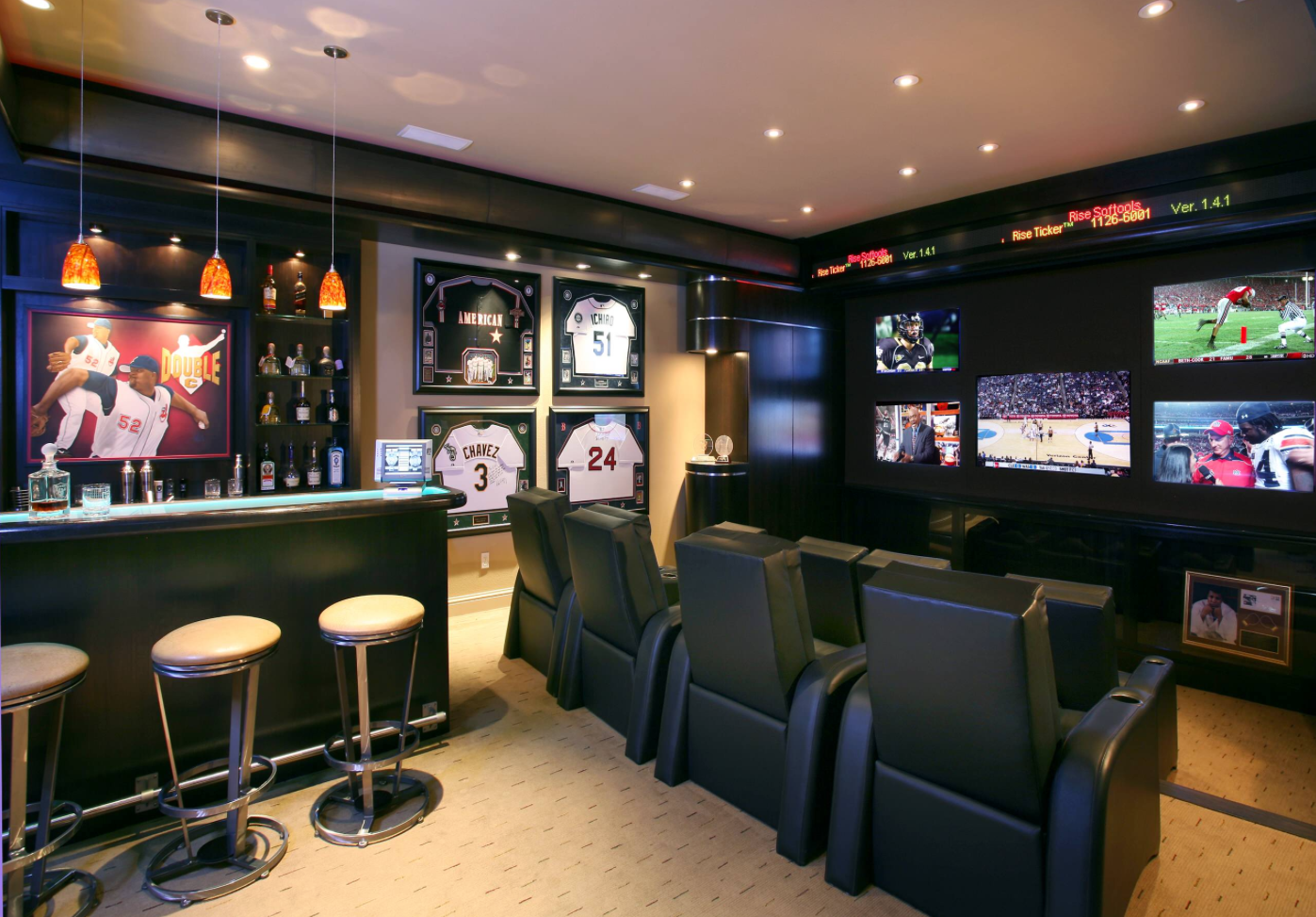 Sports are a huge part of American life. With hundreds of thousands attending games and millions of more watching at home, they draw fans like nothing else can. Whether it be a cheese head wearing Packer fan up in frozen Green Bay or the houndstooth wearing Bama fan here in the South, football is huge. Maybe baseball is your thing. The tears of joy from a Cubs fan after they broke the 108 year World Series drought showed that in many hearts, baseball is still America's pastime. If you prefer some roundball, Cleveland fans rejoiced after the 3-1 comeback by LeBron James and the Cavaliers in the NBA Championship last year. However, what most people don't realize is how home audio and video systems can turn your everyday sports watching into an amazing experience for you as well as your friends and family.
While a dedicated Home theater may not fit the family-centric atmosphere you are looking for, imagine an inviting media room with multiple TVs showing games simultaneously. A projections screen that can be split into multiple frames for keeping an eye on all of the scores but show that huge 123" image when the big game comes on. All of this set in an inviting room with multiple couches and maybe a bar and a pool table.


You don't have to make these rooms dark caves with no windows either. With ambient light rejection screens and ultra-bright projectors, we can make those larger-than-life images jump off the screen in almost any environment. A home control system will change the channels to your favorites sports networks and control multiple displays easily.

Want to drop the lights around the displays but still allow people at the pool table or bar enough light to play? Need an easy way to drop any shades or cool down the room when you get a crowd? That same control system can make adjustments of multiple lighting zones and thermostats simple. Just select the scene you want to quickly change the environment or make the individual adjustments you want.


But what about when you are wondering throughout the home and want the game audio to play in other rooms. We can make that happen with individual volume wherever you roam. Does someone else want to listen to some music at the same time? Multiple sources can be played simultaneously and everything easily controlled from your tablet or smart phone.


Hopefully this has given you some ideas on how you can enhance your game watching experience. Make sure to read my post on outdoor audio for even more ideas on taking your sports outside as well. If any of this sounds interesting and you would like more information, please contact us here at AV Enthusiast and we can schedule a meeting and/or walkthrough to discuss and design a personalized system tailored to your exact needs. You can contact us at 256.882.5081 or This email address is being protected from spambots. You need JavaScript enabled to view it. to schedule an appointment.
About the Author