PRODUCT SPOTLIGHT: MARANTZ AV 10 PROCESSOR AND AV 10 AMP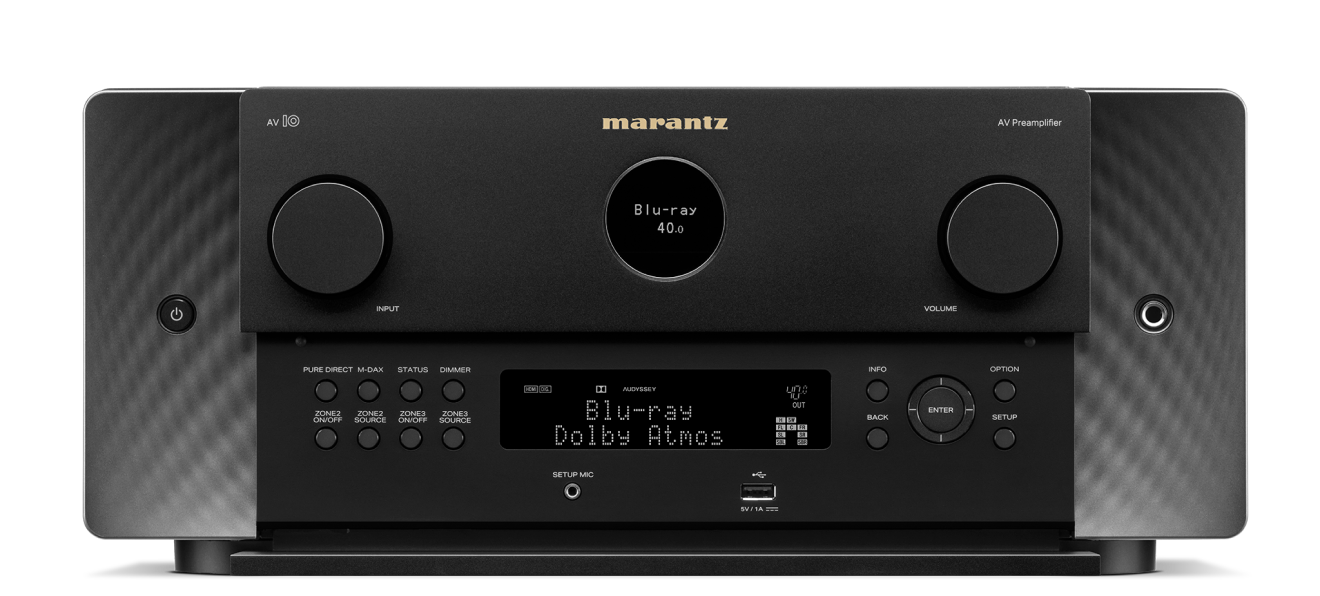 Earlier this year, Marantz introduced its latest additions to its fabled home theater product line – the AV 10 PreAmp/Processor and its sidekick, the AV 10 Amp.
Marantz' stated goal was to create its finest-sounding cinema product ever, and according to reviewers, the company hit the bullseye with this impressive duo that the company has dubbed "the cinephile's dream."
The AV 10 PreAmp/Processor is a reference-level 15.4 channel balanced pre-amp/processor with Dolby Atmos, DTS:X PRO, and AURO 3D. HEOS® Streaming is also built-in, and it is IMAX Enhanced, featuring 8K Ultra HD. Its technical attributes also include the Audyssey MultiEQ ST32 sound optimization system, with the option to upgrade to Dirac Live. Its partner, the reference-level AV 10 200-watt-per-channel Amplifier, sports 16 balanced/unbalanced inputs and 16 speaker terminals. You can check them out here.
In April 2023, Tony O'Brien at stereonet® posted a detailed review of this powerful pair, ending with this remarkable verdict:

"I came away thoroughly impressed by Marantz's new AV10 and AMP10 processor and power amp combination. This dynamic duo proved to be a resounding success that lives up to its promises. It produces a massive, open soundstage with a very tangible sense of depth and height. It walks a fine line between musicality and elegance yet still manages to create a home cinema dynamo. Overall then, highly recommended!"

You can read his full review here.

AV Enthusiast is proud to be a dealer for Marantz' legendary line of home theater AV products and can answer any questions you may have about pricing and integration. See our contact information below.

SCHEDULE YOUR OPPORTUNITY TO VIEW A DEMO OF KALEIDESCAPE TODAY!

Our team of AV Enthusiast Integrators recently attended the 2023 CEDIA Tech Summit, and one of the products that they were most impressed with was the KALEIDESCAPE MOVIE SERVICE. In fact, we were so impressed with it that we have arranged a demonstration period at our office through July 1, 2023, during normal office hours. Simply call our office (256.882.5081) to schedule an appointment.

TOUCHLESS SUPPORT AVAILABLE SOON

In addition, please keep in mind that our new touchless support service, called AVE Care, will be premiering soon. This new service, which we've been testing for the last year, takes system maintenance to a whole new level of support in that your AV technology will be securely monitored 24/7, allowing our support specialists to detect and fix system issues before you even knowthere is a problem. It will also include automatic software and firmware updates for your systems.

As part of this new service, you will be able to choose the level of support (called a service tier) that is best for you, which can include periodic on-site visits that go beyond touchless support, such as cleaning and inspecting all hardware.

For questions concerning pricing or technical specs of the Marantz AV 10 product line, please contact our office at 256.882.5081 during our normal office hours of Monday - Friday from 9 to 5 PM and Saturdays from 10 AM to 3 PM. Or simply drop by the office at 514 Madison Street, Huntsville, Alabama.

To schedule an appointment to view the Kaleidescape Movie Service in action, please call our office for an appointment.

To gain a better understanding of AVE Care, call us to schedule an appointment with our Lead AV Integrator, Steven Douglas.

No video selected.