ENHANCE YOUR SMART LIGHTING SCHEME WITH CRESTRON/PHILIPS HUE SMART LIGHTING
Within the recent release of Crestron Home® OS 4 resides another of Crestron's newest innovations: instant compatibility with Philips Hue® personal wireless lighting products.
In addition to Crestron's popular tunable LED lighting options, you now have an easy way to add Philips' newest line of customizable LED products alongside them. And, in fact, nearly any type of smart lighting product can now be integrated with Crestron Home®.
CRESTRON HOME® AND PHILIPS HUE®
Crestron Home® OS 4 has the drivers for all of the Philips Hue® lighting products built into it as a default feature, giving you the option to have your AV Enthusiast Integration team efficiently assimilate control of them into your existing Crestron system.
So give us a call ahead of the quickly-approaching Halloween and Christmas seasons to light up your scarecrows, pumpkins, and Christmas tree with Philips Hue® Festavia string lights synced to Spotify® music.

Or choose to add some Philips Hue® lightstrips under your kitchen cabinets or crown molding,
or even as a backdrop to your aquarium,
as well as behind or under selected pieces of furniture anywhere in your home,
or even on your outdoor patio.
CUSTOMIZE THE LIGHT IN YOUR HOME WITH CRESTRON'S TUNABLE LED RECESSED LIGHTING
Crestron's fully tunable LED lighting can be used to curate areas of specialized ambiance throughout your home. Each fixture is custom-built for installation in a variety of ceiling types and installation locations. In addition, they can be configured with round or square aperture shapes and with either a fixed or adjustable light angle. Trim is included that is available in different trim types and flanges, and color options include white, black, bronze, matte silver, and matte nickel.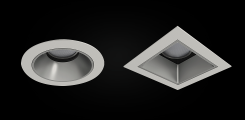 You can precisely tune the color temperature, hue, saturation, and light intensity of these fixtures from the Crestron Home OS 4 app on your phone or any touchscreen in your home. Creating a specialized light environment for any space, or specific lighting scenes for special occasions, couldn't be easier. You can now do it yourself quite easily, thanks to the innovative OS 4 upgrade. No need for a visit from your friendly AV Integrator.
TUNABLE LED LIGHTING TO ADJUST YOUR WAKE/SLEEP ROUTINE
Scientists refer to it as the "circadian rhythm" – the natural, daily alternation between night and day that affects the biological functions of all living organisms on Planet Earth, including human beings. For thousands of years, our wake/sleepcycle was synchronized to the rising andthe setting of the sun. But that was when we lived every day "out in nature" rather than in buildings. We are definitely more comfortable in the modern age, but very few of us sleep well.
In conjunction with a SolarSync® Photosensor and automated, motorized shades, a whole-house system of Crestron tunable LED lights strategically placed throughout your home and included in user-defined scenes can aid in the restoration of your family's sleep/wake cycle to that which nature intended, greatly enhancing the health of you and your loved ones.
Questions? Your professional AV Integrators at AV Enthusiast have the answers! Please call us at 256.882.5081 or drop by the office during normal business hours (Mon-Fri, 9AM-5PM and Sat, 10AM-3PM). We are located at 514 Madison Street in Huntsville, Alabama.
Related Articles